01/27/15
Order the Vinyl RIGHT HERE on any of the 16 Different Color Variants
or
Digital HERE: Bandcamp / iTunes / Amazon / EMusic / Spotify / rdio / Soundcloud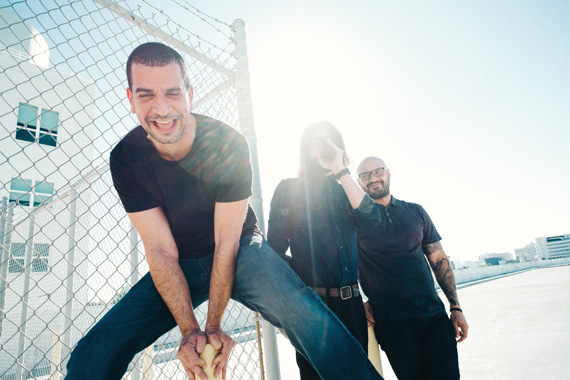 Photo: Dennis Ho / dennishophoto.com
Produced by sound sleeper and Paul Trust (Say Anything)
Mixed by C.J. Ridings (Big Jesus, Stallone)
Mastered by Dan Coutant (The Gaslight Anthem, Jawbox, Into It. Over It.)
Layout and Design by Brian Kurtz

150g Vinyl on 16 Colors
Cut at 45pm for Maximum Fidelity
Lacquers cut by Aardvark, Pressed at Gotta Groove
Full-Color Matte Jacket with 11"x11" Artwork + Digital Download Code
First Pressing is Limited to 339
---------------------------------------------
2 copies on "Sky" Vinyl
3 copies on "Yellow Surprise" Vinyl
4 copies on "Smoked" Vinyl
4 copies on "Stinky Pink" Vinyl
7 copies on "Purp" Vinyl
7 copies on "Other" Vinyl
7 copies on "You Blues You Lose" Vinyl
8 copies on "Redish Purplish" Vinyl
8 copies on "Greens" Vinyl
8 copies on "Darkness" Vinyl
10 copies on "Orange Brown Pebbles" Vinyl
11 copies on "Clear & Sky" Vinyl
12 copies on "Grey-Green Mush" Vinyl
15 copies on "Bluish-Greenish" Vinyl
20 copies on "Purple Stuff" Vinyl
213 copies on Black Vinyl



01/25/15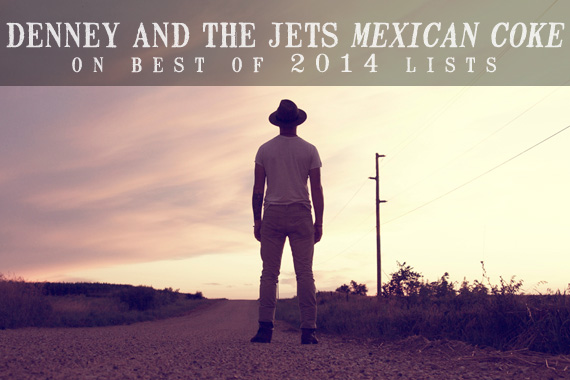 Denney and The Jets and their fine debut LP, Mexican Coke, appeared on some fine
Year-End/Best-Of 2014 Lists

Elmore Magazine - Best Albums of the Year - HERE
Nashville Scene - Top 26 Local Videos - HERE
WXDU - Top 100 Albums [#32]- HERE
HeyCoolKid! - Best Songs of 2014 - "Charlie's Blues" [#4] - HERE
HeyCoolKid! - Best Songs of 2014 - "Bye Bye Queenie" [#17] - HERE
HeyCoolKid! - Best Songs of 2014- "Broke" [#97] - HERE




11/26/14
Produced by sound sleeper and Paul Trust (Say Anything)
Mixed by C.J. Ridings (Big Jesus, Stallone)
Mastered by Dan Coutant (The Gaslight Anthem, Jawbox, Into It. Over It.)
Layout and Design by Brian Kurtz

150g Vinyl on 2 Colors
Cut at 45pm for Maximum Fidelity
Lacquers by Aardvark, Pressed at Gotta Groove
Full-Color Matte Jacket with 11"x11" Artwork
First Pressing Limited to 300
---------------------------------------------
100 Copies on Mixed Color Vinyl
200 Copies on Black Vinyl

11/26/14
27% OFF BLACK FRIDAY/CYBER MONDAY SALE!!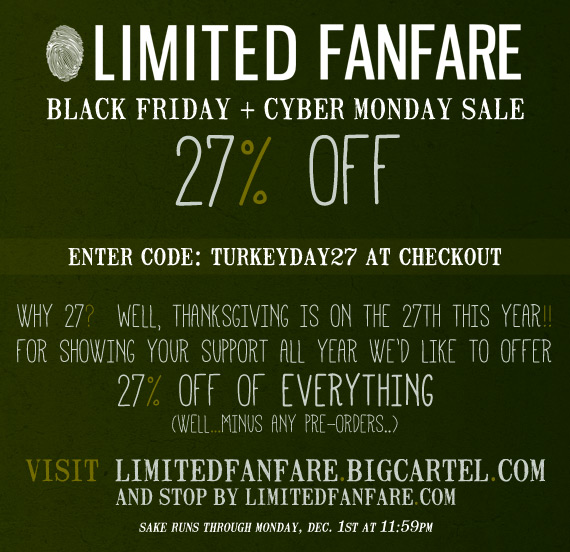 It's Simple...you go to the WEBSTORE HERE and some swanky swag to your cart (er...BAG is probably more appropriate this time o' year...) -- Enter the code: TURKEYDAY27 at checkout and you get
27% OFF of EVERYTHING (minus only the Sound Sleeper vinyl pre-order).

This sale runs through Monday night, December 1st @ 11:59pm !! DO IT!!

The store can be found at limitedfanfare.bigcartel.com



11/18/14
Ex Norwegian's 'Wasted Lines' is OUT TODAY!!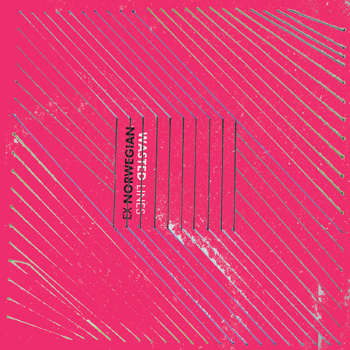 Roger Houdaille & Co. are back with their 5th LP, Wasted Lines, their first with guest lead vocalist Lucia Perez on all 11 Tracks -- OUT TODAY!!


ORDER UP!!
=============
Grab the LTD ED, Hand-Numbered CD Digipak -- Ltd to 200 HERE!
or
Tthe LTD ED Cassette - Ltd to 100, Hand-Numbered on a Sonic Green Shell HERE
or
for Digital fans order via ITUNES HERE * BANDCAMP HERE * AMAZON HERE
or
Stream on SPOTIFY HERE * RDIO HERE * GOOGLE PLAY HERE or
SOUNDCLOUD HERE


PRAISE for 'Wasted Lines'
--------------------------------------
"...shifting ever so slightly from the pop perfect sound they minted early on and into an edgy insurgent one reminiscent of Blondie, the New Pornographers, Siouxsie and the Banshees, and other indie auteurs."
- Lee Zimmerman, New Times Broward-Palm Beach
"...an eclectic mix of power pop, rock and roll, psychedelic and 1960s blue-eyed doo-wop, and no holds barred creativity." - Meggie Morris, Renowned For Sound
------------------


The band is doing a FREE. All-Ages in-store show TODAY, Tuesday, November 18th
at Radio-Active Records in Ft. Lauderdale, FL @ 6pm!!
Opening the show are Thanks.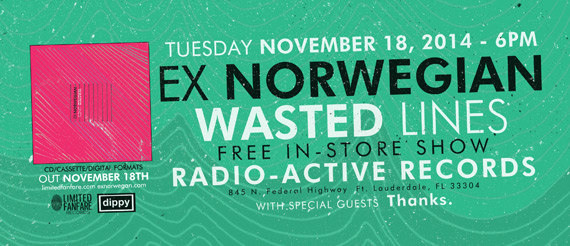 09/30/14

Ex Norwegian 'WASTED LINES' Announcement, Pre-Order + Track PREMIERE!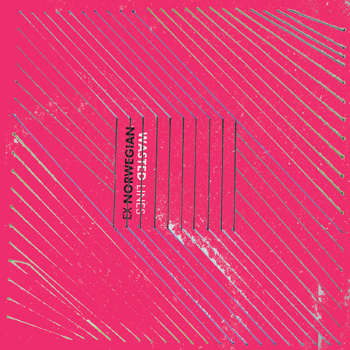 As we (Limited Fanfare) near our 4th Anniversary, Ex Norwegian shall be the first band on our roster to release 2 Full-Length albums on the label...HIP HOP HOORAY!!

Roger Houdaille & Co. are back with their 5th LP, Wasted Lines, their first with guest lead vocalist Lucia Perez on all 11 Tracks -- OUT November 4th, 2014. Produced by Roger Houdaille and Fernando Perdomo and Recorded in South Florida, Southern California and Washington State.

Check out the brand new Ex Norwegian song, "Be There" --
RIGHT HERE -- Courtesy of our friends at Indieshuffle.com

Our friend Brian O'Leary of Indieshuffle.com says of the track, " "Be There" features Lucia Perez on lead vocals; she brings a strong presence to this really fun track that'll leave you wanting more." - True, VERY TRUE!

PRE-ORDER
============
Grab the LTD ED CD Digipak -- Ltd to 200, Hand-Numbered HERE!
or
Pick up the LTD ED Cassette - Ltd to 100, Hand-Numbered on a Sonic Green Shell HERE
and/or
The Digital Pre-Order via our BANDCAMP HERE

The band is putting together an AWESOME 5 CD + 1 DVD + 1 Cassette version of WASTED LINES, which is SUPER limited (probably only 10-20 copies or so) that you can pick up directly from them RIGHT HERE on BANDCAMP!! Tons of B-Sides and Video Goodness...

Tracklisting:
1. CheepCheep
2. Be There
3. Much Rooms
4. Unstoppable
5. All The Time
6. First Time
7. You Could Be Someone
8. It's Too Late
9. Only The Clues
10. Unfair to Compare
11. Love Is

06/18/14

PINEBOCKS
"LENA " Digital Single
b/w "Love Don't Come Around Here"

We're glad to have released one of the summer's hottest jams, "Lena" from Chicago's very own PINEBOCKS (pronouced Pine-box)..DUH! ENJOY Cory Clifford's Goodness!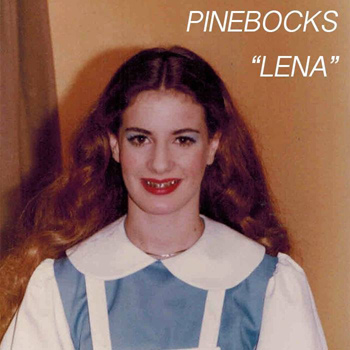 Stream: Spotify / Rdio / Bandcamp
BUY: Bandcamp / iTunes / Amazon / Google Play



06/10/14
sound sleeper
"Chinese Firedrill Underwater"
2-Song Digital Single + LTD ED Handpainted CD Cover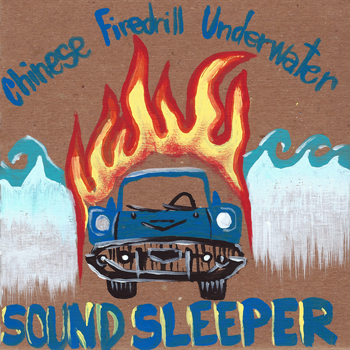 BUY PHYSICAL at the Limited Fanfare Store (only a few left!)
BUY DIGITAL on iTunes // Amazon // EMusic
STREAM on Spotify // Rdio
If you don't know sound sleeper by now, you should! It's the somewhat new band made up on members of Sunday Driver (Doghouse Records) and MonstrO (Vagrant Records). In fact, after a few different guitarists, it became the final incarnation of Sunday Driver -- but it's different...
better different!

"Chinese Firedrill Underwater" is a lush, orchestrated acoustic rumbler that was produced by Mike Marsh (drummer of The Avett Brothers/Dashboard Confessional) at his Nashville studio. It will be on the band's forthcoming debut EP, 'A Perfect Sea For Drowning' -- which will be out this summer. The b-side is a live/rehearsal version of the bass groovin' tune "The Mermaid and The Man."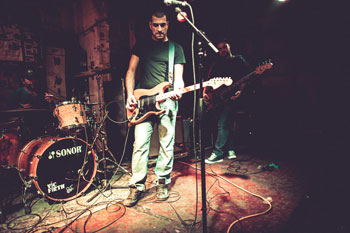 Alex Martinez - Vocals, Guitar
Charlie Suarez - Guitar, Vocals
Arnold Nese - Bass Guitar
Mark Annino - Drums, Vocals

sound sleeper on Facebook
sound sleeper on Twitter
sound sleeper website

The physical single is available in a SUPER LIMITED QTY of ONLY 25 and were handpainted by each member of the band. We have a few leftovers from their March show at the legendary Miami punk rock club Churchill's Pub. You'll be given one randomly painted cover...we'll use our intuition to send you one accordingly...PROMISE!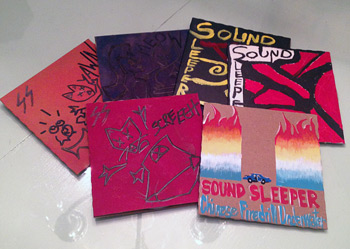 05/29/14


Denney and The Jets BYE BYE QUEENIE Video




We're proud to bring you Denney and The Jets' first video for the song "Bye Bye Queenie" from their debut LP, Mexican Coke-- it was directed and edited by our friend Josh Shearon. If you like what you see and hear, grab the record HERE.

The A.V. Club has JUST Premiered the VIDEO

Click HERE to see it!!

+++

DENNEY & THE J's ON TOUR!!
Supporting ROBERT FRANCIS and The NIGHT TIDE
06/23/2014 - The Mothlight – Asheville, NC - BUY TIX

06/24/2014 - Vinyl – Atlanta, GA - BUY TIX

06/25/2014 - The High Watt – Nashville, TN - BUY TIX



04/08/14
D-D-D-DENNEY AND THE JETS release MEXICAN COKE Today, April 8th

In Coordination with our good friends at BURGER RECORDS!!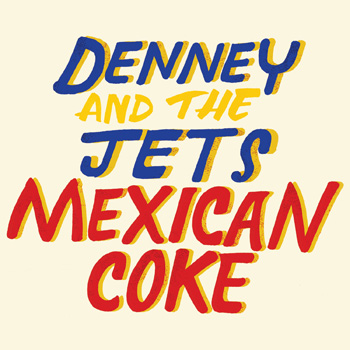 Order Mexican Coke NOW on
VINYL (on 3 Colors) // CD // CASSETTE // ITUNES // AMAZON

Stream/Listen on SPOTIFY // RDIO





MEXICAN COKE Album Stream via American Songwriter

American Songwriter is streaming Mexican Coke in its entirety HERE

Songwriter Says: "I don't know what these songs are about or who they are about,
"frontman Chris Denney tells us, "but they aren't about me, wink wink. Hey, hey, hey, smoke
weed everyday."


ALBUM RELEASE SHOW + Intimate In-Store
Performance @ FOND OBJECT in Nashville!

If you're in or close to Nashville, come out on release day, April 8 for a FREE FULL BAND
In-Store show @ 7pm at FOND OBJECT (which is owned by our very good cohorts, The Ettes).





FREE Denney DOWNLOADS!



You can grab "Bye Bye Queenie" on CMJ's April Mixtape HERE

and




Download "Mama's Got The Blues" on the Insound VINYL Sampler HERE

02/11/14

NEW Denney and The Jets Single + Album INFO!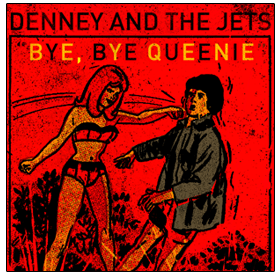 "Bye Bye Queenie" is the first single from Denney and The Jets' Debut LP for Limited Fanfare/Burger Records, Mexican Coke, which will be out April 8th, 2014! We're very excited to be working with our friends at Burger Records and Redeye Distribution to bring this to you!

Denney will be on tour in the month of April with White Fang (Burger Records) -- SEE DATES HERE
Brooklyn Vegan is premiering "Bye Bye Queenie" right HERE!!!
BUY it
----------
iTunes // Amazon

STREAM it
----------------
Spotify // Rdio


Denney and The Jets' MEXICAN COKE is out April 8th, 2014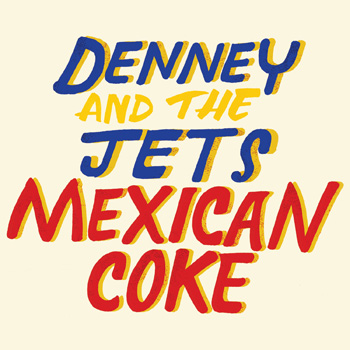 Available on Vinyl/CD/Cass/Digital

PRODUCED By Andrija Tokic (Alabama Shakes' Boys and Girls) and Chris Denney

For born-and-bred Nashvillian Chris Denney, it all began at age 9....
Stealing pills from his Grandma's medicine cabinet, smoking 2 packs a day and eventually graduating to marijuana by the age of 13.  It wasn't until about 5 years ago that Denney started channeling his life experiences into vivid tales of what he knows best -- Sex, Drugs and Rock & Roll. 
Denney and The Jets' debut LP,  Mexican Coke (out April 8th, 2014 via Limited Fanfare and Burger Records) was recorded and mixed in just 5 days at The Bomb Shelter in East Nashville on to 2" tape by Andrija Tokic (Alabama Shakes 'Boys and Girls') and Chris Denney with help from friends Clear Plastic Masks (Serpents and Snakes/Dine Alone) who backed Denney in the studio and co-produced.
Mexican Coke Themes:  Smokin', Drinkin', Cocaine, Youth, Rodeo Clowns, Fucking Around, Acquittal, The Blues, Family, Being Broke, Pain Pills, Hangovers, Hookers, Strength, Getting High, Addiction, Living, Dying...

Tracklisting:
1. Water to Wine
2. Bye Bye Queenie
3. Broke
4. Darlin'
5. Alabama Man
6. Hoooked
7. Mam's Got The Blues
8. Pain Pills
9. Runnin' Through the Woods
10. Charlie's Blues