BIOGRAPHY

<!DOCTYPE HTML PUBLIC "-//W3C//DTD HTML 4.0 Transitional//EN">Nashville, TN Rock & Rollers DENNEY AND THE JETS will release their new 5-song Self-Titled EP August 21st on Limited Fanfare Records.  Fronted by Chris Denney, Denney and The Jets play their unbridled brand of hip-shakin' Rock & Roll cuts with heavy soul, R&B and country influences. The band has released a slew of singles, 7"s and cassettes on the JEFF The Brotherhood's splendid Infinity Cat Records.

Chris Denney began writing songs in the Spring of 2008, recruiting Wes Traylor (Natural Child), and Jake and Jamin Orrall (JEFF The Brotherhood) to be the very first of his Jets. After each member parted ways to pursue their own individual careers, Chris signed on Daniel Pujol (eponymously of PUJUOL) and Joe Scala. After Pujol's departure, Denney solidified the lineup by adding longtime friend Sean Cotton on lead guitar, Joe's little brother Evan Scala and most recently bringing in Ric Alessio on keys and sax.  Denney and The Jets have turned songwriting into a full realized communal process and have grown in to one of the South's finest live offerings.

In the Spring of 2012, The Jets headed in to The Bombshelter in East Nashville with producer and engineer Andrija Tokic (Alabama Shakes, The Parting Gifts) -- with "Close The Blinds" recorded at Cleft Music by Loney Hutchins.  The result is an insanely fiery batch of tunes that Nashville Cream calls "[Straight-up rock and roll music] — not bastardized, compromised, corrupted or contaminated."

Don't miss out on hearing your favorite new band...




ASSOCIATED ARTISTS

The Ettes






DISCOGRAPHY on LIMITED FANFARE

Denney and The Jets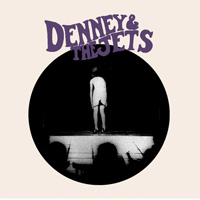 (LFR-013) CD/Cassette/Digital
Released: August 21, 2012

Produced by Andrija Tokic and Denney and The Jets
"Close The Blinds" recorded by Loney Hutchins






OTHER RELEASES

EP
2010 - Devil's Harvest (Cassette -Infinity Cat)

7"
2011 - "Killin' Machine" (Vinyl - Infinity Cat)

MUSIC





VIDEOS


SOON....





CONTACT & LINKS

BANDCAMP
denneyandthejets.bandcamp.com

FACEBOOK
www.facebook.com/denneyandthejets

LAST.FM
last.fm/music/denney+and+the+jets

LABELS
Infinity Cat Recordings